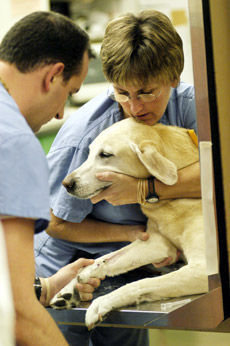 A theatre begins with a coat-hanger, and our veterinary centre began its work with a 24-hour veterinary service. It opened in 2000 and still works.
In any case, when for some reason, you can't take your pet to the clinic the veterinary first aid ZOOVET will help you.
Doctors on duty are ready to help your pet 24 hours a day and experienced dispatchers can give you consultations before the doctors arrive.
The first aid doctors have a specialization, as well as the clinic doctors. Pets' owners can call a veterinary surgeon, therapeutist, ornithologist, herpetologist.
It's possible to make different domiciliary diagnostic checkups for your pet: abdominal cavity US, heart EKG.
The clinic laboratory works 24-hours a day that's why a doctor can take analysis for laboratory checkup at any time of the day.
A dentist makes dental calculus removal with the help of US at your place.
All the first aid doctors are qualified specialists and regularly take professional assessment of the clinic head doctor.
If necessary, the first aid doctors transport animals in bad condition to the clinic for their further treatment.
In those cases when your pet needs complex manipulations prescribed by the doctor and you can't produce them yourself, call our first aid service. The centre medical attendants will help you professionally and this service will cost less.
You can call veterinary first aid ZOOVET by telephone numbers +7 (495) 995-06-32, +7 (495) 775-94-24, +7 (495) 747-77-05.